Catalonia: Independent but united with Europe?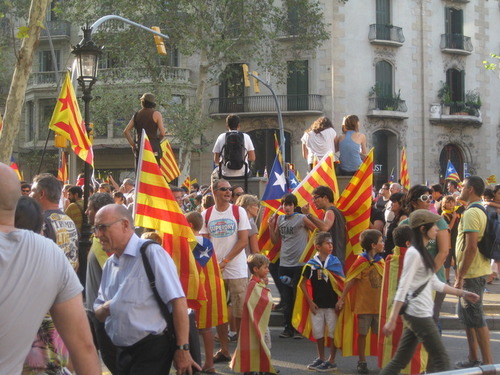 In the biggest rally for Catalan independence ever, an estimated crowd of 1.5 million people flooded the city of Barcelona with red-and-yellow striped flags on Catalonia's national day, the Diada. 
Tax laws and lack of financial autonomy have brought Catalan's disaffection towards the Spanish government to its fullest. And yet, the slogan of the march echoed a unionist aspiration "Catalonia, a new European state". With the prospect of an economic collapse looming large, the debate over a new hypothetical membership is quickly trespassing national borders.
 With the Scottish government aiming to introduce the Referendum Bill in early 2013 as the legal basis for the independence referendum scheduled in 2014 and other independent-minded regions in Europe such as the Basque Country, Flanders or Bavaria closely watching these developments, it remains unclear whether a country that secedes from an EU member would automatically become a new member, or would have to apply for membership.
See on theconversation.edu.au